How Recurring Updates Turn Your Website Into An Investment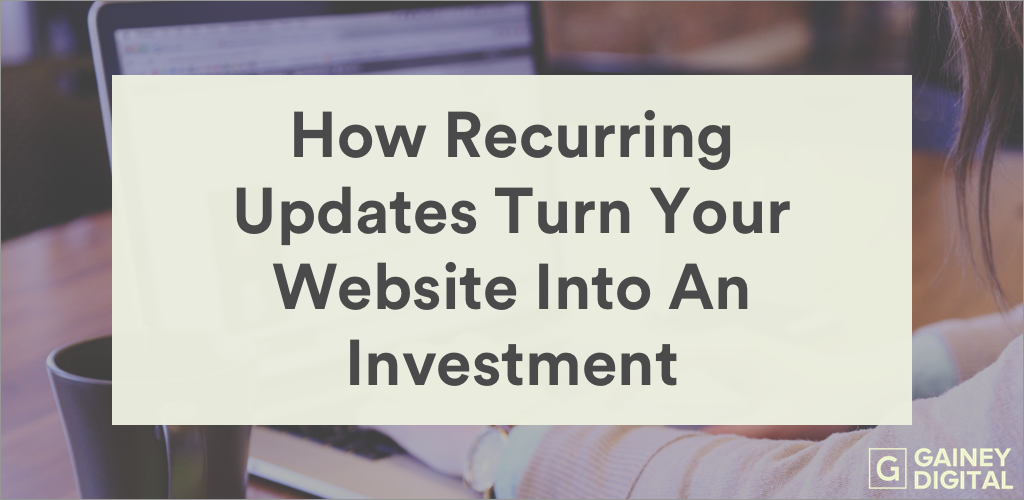 The Old Way
Website projects have typically followed a certain path in the past:
Find a company or person to create your new website.
The company gathers all your requirements for the website.
The company sends you a proposal.
You sign the proposal and send the company a deposit.
The company goes off and works with the designers and developers to build your site
They give you a version of the site to view and test
You sign-off on the new design.
The company releases the new website into the world.
You pay the company's final invoice.
You realize you forgot something or that the website isn't actually helping your company grow.
The website projects would take months to produce and go live, with little thought as to what on-going work would need to be done to keep the website up to date, secure, and meeting your business objectives. Because of this, a new website refresh project occurs every couple years, or in many cases, five or more years later. Five years is a long time in internet terms. A really long time.
These larger projects also came with larger price tags and more uncertainty as to whether or not they would benefit the business. They were seen as a necessary evil, a cost, instead of an investment. Precious time is spent trying to justify another website refresh to decision makers which don't have regularly budgeted expenses. That's a hard sell for most marketing departments if the website is seen as a cost.
A Better Way
Luckily, there is a better way to extract value from your website. What if, instead of the old way listed above, your website process looked like this?
Find a partner to help implement your digital strategy on a recurring basis
Work with the partner to outline the goals for your digital channels
Decide which part of your website to test first
The partner implements the website changes, making sure to capture relative data
The test runs for a given timeframe.
The partner analyzes the data and reports back to you
You and the partner determine what changes to make and what to test next.
When it comes to the overall design and branding of your website, you most likely will need a larger project to refresh the website. But even so, this "larger" project isn't the same as the monolithic approach above. You can implement the changes incrementally, running tests to measure how customers are responding to your ideas. Keep what works and discard what doesn't.
The way to implement this iterative, test-driven approach for website changes is to continually provide resources to update, monitor, and evaluate the data. By structuring your business to make changes quickly on your website and related tools, you can quickly focus on what your customers want instead of waiting for the next large-scale update to go live. Each investment in updating the website is smaller, happens quickly, and is based on the data collected. You're not making long term projections that are detached from what's really happening in your market.
For many companies, they don't have the expertise or time to continually make changes to their website or test new ideas. At Gainey Digital, we help companies refine their website goals and implement digital marketing plans using a subscription based service. This allows businesses to have predictable expenses related to their digital marketing. Making regular changes and measuring their impact also allows businesses to see what return they are achieving on their investments in digital marketing. This type of insight isn't as easy to achieve when websites are only updated every few years because the targets and customer needs change rapidly.
Contact Gainey Digital today to learn how we can help you turn your website into an investment to help grow your business.